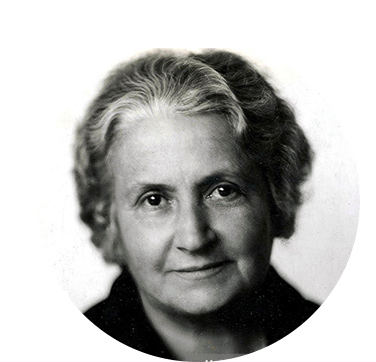 Maria Montessori
A life devoted to children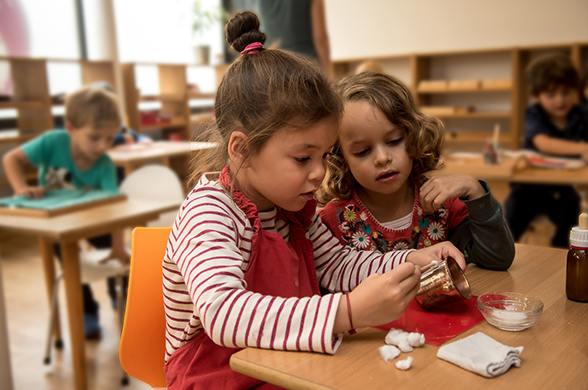 Maria Montessori was born in 1870 in Chiaravalle, Italy.
She was the first woman to be accepted into the Faculty of Medicine and to become a doctor in Italy, which she achieved in 1896.
Her first post consisted of visiting the asylums of Rome. There she met children who were left in empty rooms with nothing to play with.
She worked for ten years in the field of psychiatry and in 1899 founded the state Orthophrenic School for Roman children.
She began to think about a universal education method for mentally disabled children, as well as for all children.
In 1907 Maria Montessori opened her first Children's House, the "Casa dei bambini", in San Lorenzo, a popular district of Rome.
Maria Montessori trained many teachers in this method.
The New Education Movement
Maria Montessori was one of the first people to work on recognising the rights of children in general and their right to education in particular. She was the figurehead of the New Education Movement. In her opinion, early childhood was the critical phase in an individual's evolution and the period during which established the foundation of all subsequent development.
There are few examples of an enterprise of this nature aiming to implement a range of educational precepts of universal scope.
Maria Montessori was also exemplary in that she always did her utmost to combine theory and practice. Her children's houses and teaching materials are evidence of this rigour.
Maria Montessori took her inspiration from the works of two French doctors, Itard and Seguin. Itard was the first educator to practice observation of children. His pedagogical works were considered the first essays on experimental education. Seguin was one of Itard's students and worked on sensorial development and materials.
International recognition of success
The varied programme that she launched remains unparalleled. In just a few years children's houses opened all over Italy, Europe and then in America.
Former pupils are known for their success, such as Larry Page (the founder of Google), Jimmy Wales (the founder of Wikipedia), etc.
Today a large number of so-called "classic" schools take their inspiration from Maria Montessori's pedagogy.
Developing curiosity and the desire to learn
Our role and our ambition is to give children a taste for learning and a sense of independense, all while respecting each child's own rhythm and environment.
In a warm setting, surrounded by a caring team, the children work from the youngest age to acquire the basics of adapted and ambitious teaching. Thanks to evolving materials and a specific method, the children thus develop their concentration, motor functions, dexterity and autonomy with freedom based on respecting rules and others.
Plurality and choice form a considerable wealth of exploration that allows each child to develop his or her curiosity and the desire to learn. The activities, whether proposed freely or taught, also focus on learning knowledge and the arts in a structured yet fun manner.
Our desire above all is to accompany all children as they shape their personalities, blossom and grow, all while remaining happy to learn.
The Montessori Method
Children are the actors in their learning. The educator accompanies them, providing them with the means to make the best use possible of their potential. This allows them to acquire self-confidence and self-esteem. The Montessori Method is based on two principles: the child's " absorbent mind " and " sensitive periods ".
The absorbent mind
Education is based on both observing children, in order to satisfy their needs as much as possible and on children's natural ability to absorb and assimilate a quantity of information from their environment.
This is the mental state that allows children to shape their personalities through their own experiences.
According to Maria Montessori, children are " sponges ", absorbing everything their environment has to offer and shaping themselves from their interaction with it. This state of mind is unconscious between birth and the age of 3 years, then becomes progressively more conscious between 3 and 6 years.
Children integrate, through mimetism, the customs and habits of the environment in which they grow up in and thus shape their own personalities.
The absorbent mind is guided by instincts that Maria Montessori called " sensitive periods ".
Sensitive periods
Between the time of birth and the age of 6 years, children go through what Maria Montessori referred to as " sensitive periods ": order, movement, language, sensation, small objects, social life. These sensitive periods are inner predispositions, particular and transitory sensibilities that push children to turn towards an aspect of their environment. When skills are acquired, these sensitive periods stop. Children can thus be highly sensitive to certain activities and insensitive to others for a certain period. For example, if children go through the sensitive period for the written language, they will be attracted by all activities that concern letters. Once the skill has been acquired they will be attracted by something else.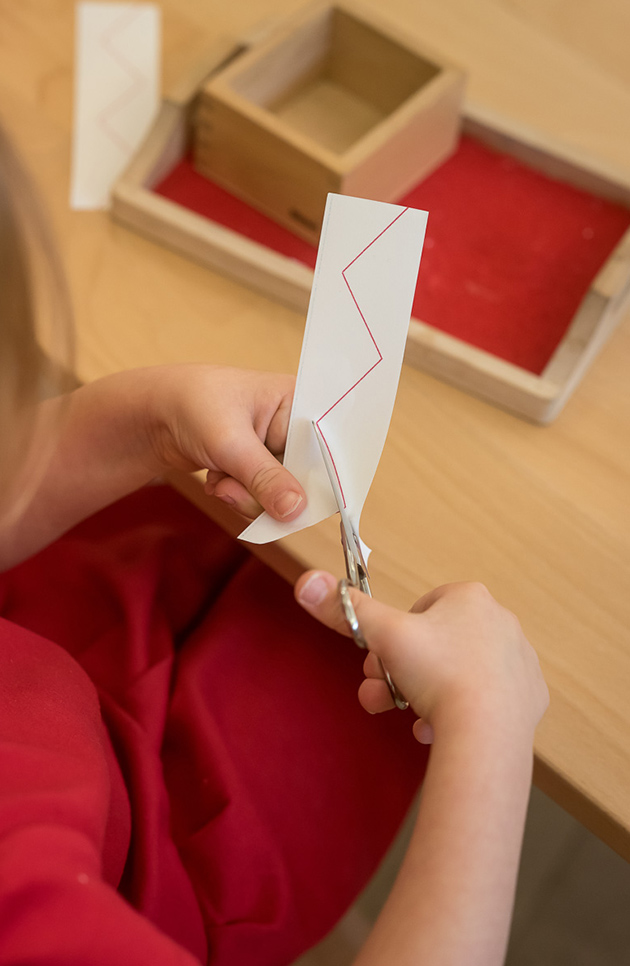 For further information
Discover how a typical day is organised for children aged 2 to 3 years, and 3 to 6 years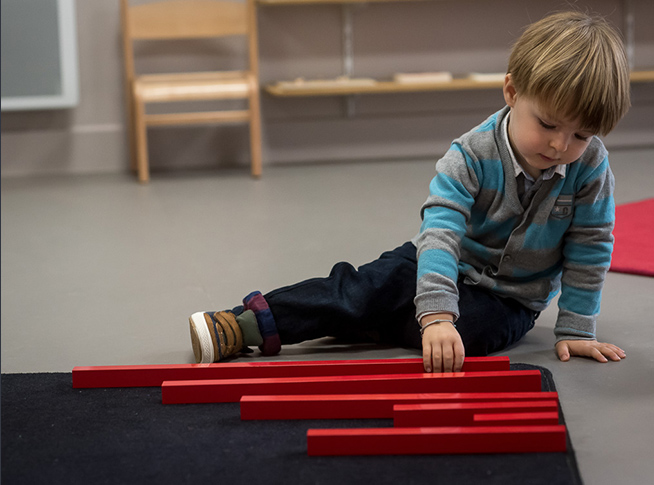 Our addresses, information about our schools…