3/6-year-old
Ranelagh school
49 rue de Ranelagh
75016 Paris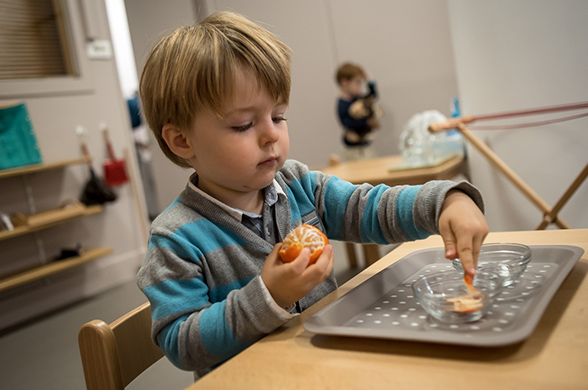 Prices
Registration fees: € 500
School fees: € 12 400
Meal:
Caterer: € 1 280
Packed lunch: € 200
 Information
Class size: 25 children
School days: Monday, Tuesday, Thursday and Friday
School hours: 8:30 am – 4:00 pm
Classroom Environment
Our school in Ranelagh, approved by AMI (Association Montessori Internationale) and reported to the Paris academy, is a 100% bilingual structure, supervised throughout the day by two Montessori educators (3/6 years old) certified by AMI (Association Montessori Internationale) and an assistant.
We welcome 25 children from 3 to 6 years old on Mondays, Tuesdays, Thursdays and Fridays from 8:30am to 4pm.
The school "at Montessori Ranelagh" offers an international environment open to multicultural exchange and diversity. The child, immersed in a multilingual environment, discovers, absorbs and naturally becomes familiar with a new language.
On a daily basis and respecting the child's rhythm, the use and comprehension of Montessori activities allow the child to develop his concentration, logic and dexterity. Each material is studied so that the learning of fundamental notions (mathematics, language, reading…) is done in a progressive and durable way.
It is a caring environment that helps children gain self-confidence, become progressively autonomous and to learn how to learn.
The activities are presented individually to the children by the Montessori educators. The mix of ages encourages emulation between the younger and older children. The younger children learn by observing their elders and the older ones become responsible for the smooth running of the class. They are the "atmosphere" and show the younger children the rules of life in class. They accompany them in their activities and deepen their knowledge. This interaction between the different ages creates a climate of benevolence, mutual aid and responsibility within the group.
During the school year, we welcome Montessori educator trainees as well as young child educator trainees.
A day at the school…
8:30 – 9 am : Welcome of the children
8:30 – 11:45am: Montessori activities
Individual presentations by the educators take place throughout the morning. The children who are not being presented handle, alone or in small groups, if necessary with the help of the assistant, activities that have already been presented to them individually by the educators.
Musical awakening: The musical awakening workshop, led by an English-speaking music teacher, takes place every Thursday for one hour. All children in the class are grouped together for this workshop. With a playful approach, the children learn musical notions such as intensity or diversity of sounds. They also get to play different types of instruments
Art workshop: It is free all day long. Materials are provided to the children (easel, paper, paint, apron) so that they can be totally autonomous and paint at any time of the day, without the intervention of adults.
11:45 am -12:30 pm: Lunch
The meal is delivered by the caterer "Ekilibre" who offers varied and balanced menus, and very often organic. Each meal includes a starter of raw vegetables, a main course with a side dish, a cheese and a dessert.
In case of food allergy (medical certificate required), the child can bring a packed lunch.
12:30 – 2:30 pm : Resumption of Montessori activities, a short nap or quiet time is offered to the 1st year children.
2:30 – 3:30 pm : Outing to Henri Collet Square, 5 minutes from the school (18 Rue Gros)
3:30 p.m.: Gathering for a reading session (each child can bring one of his/her favorite books to be read in class).
4:00 pm: Departure of the children
4:15 – 5:00pm: Evening Workshops – Workshops (yoga, music, cooking) are offered in the evenings after school.
Children registered for evening workshops have a snack between 4:00 and 4:15 pm "learn more +"
School Vacations
The school vacation calendar is that of the Ministry of National Education zone C. We also offer workshops during the school vacations. "learn more +"
Exchanges with parents
A "discovery of the class" party with parents and children is organized at the end of August.
A back-to-school meeting for parents is held in September. All parents meet with the educators and the assistant for a presentation of the daily activities and to discover or deepen the Montessori pedagogy and the material.
Two individual appointments are scheduled in January and May to discuss your child's development and answer your questions.
Other appointments can be scheduled during the school year upon request by parents or educators.
Fees 2023-2024
Entrance fee for the first registration only : 500 euros (non refundable)
Children's House, full day (8:30am to 4pm)*                        12,400 euros/year
* Lunch for the year                                                                             1,280 euros/year
A medical certificate is required for any exception to the lunch menu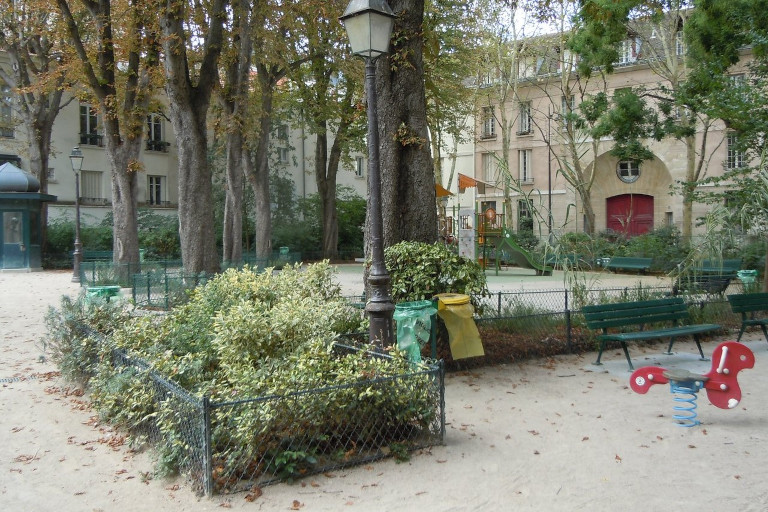 Enrollment, time schedule , school fees…
In at Montessori schools in Paris, we practice bilingualism by immersion from an early age.