A universe full of colour created by Mum for the delight of her children.
Although she enjoys working with mosaics in her spare time, Virginie is actually a specialist in language skills and education. She has apparently never even studied interior design. But because she wanted to create attractive rooms for her children, she threw herself into decorating the bedrooms and playroom for her daughters. This autumn each of the two bedrooms will now be occupied by two of her girls.
1. The playroom is the perfect haven for having fun. It's a paradise for little girls, full of charming objects. There are even plants to take care of outside on the terrace.
2. Romy gets busy drawing!
3. The girls' bedroom. Having such a lovely coat-rack really makes you want to tidy your bedroom!
4. Pink was chosen as the main colour for the oldest girl's study corner.
5. The colours of all the pretty objects show up well against the white wall of the bedroom, although the youngest sister, Jude, confides shyly to us that the donkey's head frightens her just a bit.
Julie Ansiau
Axelle (9) Jude (6)
Romy (4) Chai (3 months)
After teaching for 5 years in a Montessori school, she became the head of a school using this method in 2005, located on the rue de Babylone, in Paris' 7th district. Married to a businessman, she has four daughters aged 9, 6 and 4, while the youngest is just 3 months old.
1. A colourful hen on the wall, made of scraps of paper, is the joint work of the school's pupils.
2. The teaching material in Montessori schools features a lot of wood, as seen here for the geography resources.
3. Objects from everyday life used in the learning process.
4. This venue was at one time a printer's workshop, of which the heavy press at the back of the classroom is a reminder. The chairs and other items are chosen to complement the general harmony of the space.
5. The classroom window looking out onto the street has a contemporary feel with its jolly polka dot decoration. Flower-shaped lollypop sticks, each with the photo of a child, are used to take the register and then stored in pots which indicate whether the child is present or not.
EXCEPTIONAL SCHOOL
A learning space which makes you want to go back to school!
Paris is lucky to have around ten Montessori schools. They all share the same teaching philosophy, but they are arranged and decorated in very different ways. The school where Virginie works reflects her own taste in the use of bright colours. 29 children of primary age attend and, on Wednesdays, it also welcomes older children for musical and art activities, or language lessons.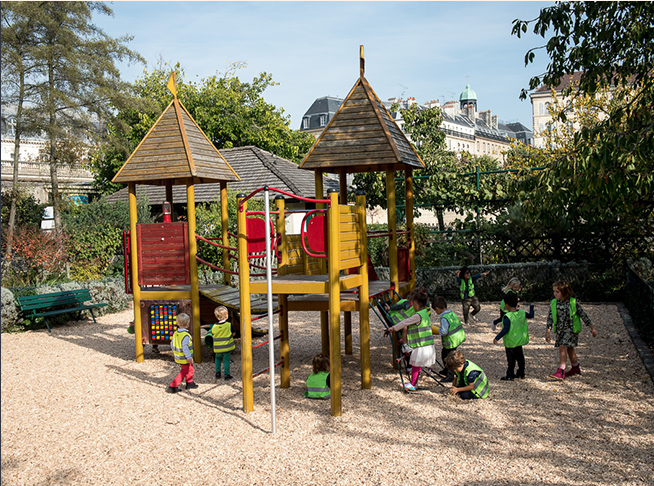 Enrolment, timetables, fees…